We're more than a personal alert device.
Red Dot Alerts offers

next generation mobile personal alert solutions

that protect you wherever you are, any time of the day or night.
Go for a walk, work in the yard or head to the shops with complete confidence that if anything goes wrong, help is close by. With our fully managed services at your disposal, you can live your life—and let us take care of your worries.
Our Services
Red Dot Alerts is locally owned and operated and is happy to provide a fully managed suite of mobile safety services for both at home and on the go clients.
$39.99
MONTHLY, WITH A 30 DAY RETURN POLICY
A telephone landline is required for At-Home installation and you must live within 1hr of Ottawa/Gatineau.
For details on our On the Go plan, please contact us directly at T: 613-244-7400
Next Generation of Emergency Safety Services
2-Way Communication
Speak directly through your device to an Emergency Hotline Agent with a press of a button.

Safe Zone Alerts
Wandering can be a constant concern for those living with cognitive issues. Safe Zone alerts notifies your family members if you cross the boundary of the area you've designated.

Notify Caregiver
You can choose up to four contacts to receive alerts in the event of a personal emergency, either through email or text messages, whichever suits your needs.

24/7 Response Centre
An Emergency service agent is there to assist you any time day or night. These trained professionals can contact emergency responders and notify your personal contacts.

Fall Detection Technology
When the device detects a fall, it automatically sends an alert to our 24/7 Response Centre and to your personal contacts.

Real Time GPS Location Tracking
Our GPS technology will detect your location in real time so help can reach you as quickly as possible. Your contacts will also be able to locate you on their computers and mobile devices.
Why Red Dot Alerts?
Red Dot Alerts continues on with the compassionate helpline of Bruyère, a much respected Ottawa care champion. Our fully managed suite of mobile safety services —that you can turn on and off as needed—makes it easy to extend  the reach of protection from home to community.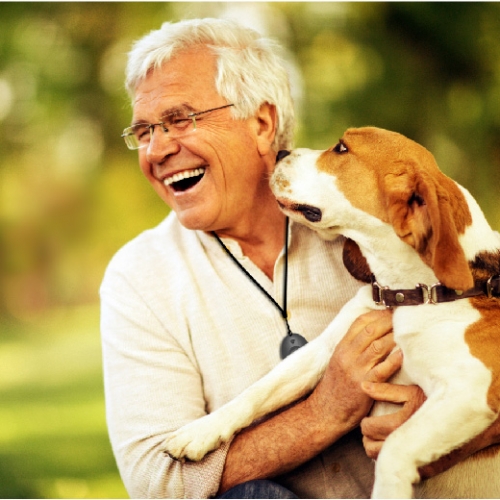 Who we help
Red Dot Alerts technology-enabled care protects independent and active seniors and those living with chronic diseases, giving peace of mind to the family, friends and providers who care for them.