At Red Dot Alerts™, we are proud to be a 100% Canadian owned and operated company, with a 30-year history of caring. Our call centres are located in Canada and all our operators are bilingual.
For us, safety isn't just 'another service', It's our only service.
Bruyère HELPLINE was established in 1986, in July 2018 Bruyère and FCi formed a new company called Red Dot Alerts™.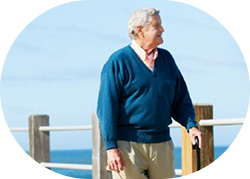 Red Dot Alerts™ continues to champion the compassionate care associated with the much-respected Bruyère helpline. Our fully-managed suite of At-Home and On-The-Go safety services provide complete freedom & 24-hr peace-of-mind.
We know that this is a big decision for yourself or a loved one. We are not just another technology company that has added on another service. We are not just another item on your monthly bill. We provide compassionate caring services for you or your love ones. This is all we do. Red Dot Alerts™ provides 24-hr peace of mind at home and anywhere there is cellular service in Canada.
Whether you're a caregiver to someone you love or need support to maintain your independence, or living with a chronic illness whenever, wherever – we're here for you.
Why not give us a call and let us take you through our options? We're here to help. 1-888-557-2019